Domain name flipping, buying cheap domains and sell higher is not dead!
On March 3, 2021, Unstoppable Domains (UD), a company building blockchain domain names, has announced the sale of its "win.crypto" blockchain domain NFT for a record $100,000 USD. The sale — which occurred on March 3, 2021 — stands alone as the most expensive domain name NFT ever recorded. The purchase of the "win.crypto" blockchain domain highlights the growing interest in the NFT phenomenon beyond digital art.
What's the Big Idea 
UD started out as a simple idea — giving people control and ownership of their domains. Amazingly this simple idea has grown into multitude of exciting use cases which in the future is forecasted to increase the value of blockchain domain names.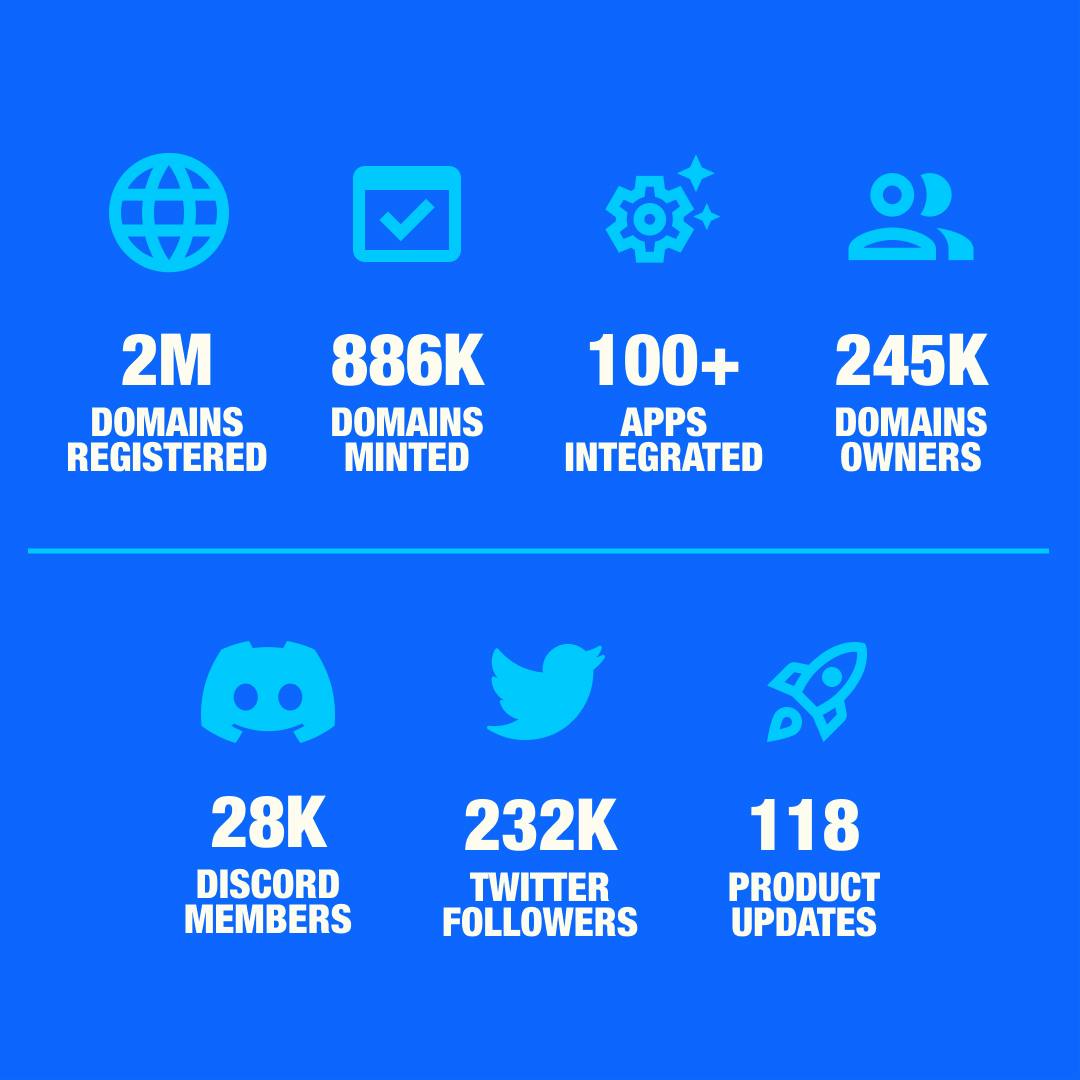 UD Product Evolution
Here is summary of some of exciting development happening with UD:
More Power, Less Gas: Launching Polygon Layer 2 Scaling Solution
By adding Polygon support, we've saved our community over $100M (and counting!) in gas fees.
More You-tility: Login With Unstoppable Launch
We beta launched Login with Unstoppable, the first auth product on Ethereum that lets users share private data with the apps they use.
More Than Magic: Alchemy Integration
We partnered with Alchemy to launch an API that makes it easier for every wallet, exchange, marketplace or app to support NFT domains.
All You. All Yours: Verified NFT Avatars. We launched NFT Avatars, giving you the ability to connect any of your favorite NFTs (with proof of ownership) to your domain and signal to the world which communities you belong to.
A Digital Identity That's More…You: Releasing 8 New Top-Level Domains
We released 8 new TLDs (.nft, .wallet, .x, etc), so that everyone can choose the identity they resonate with most as they navigate the new web.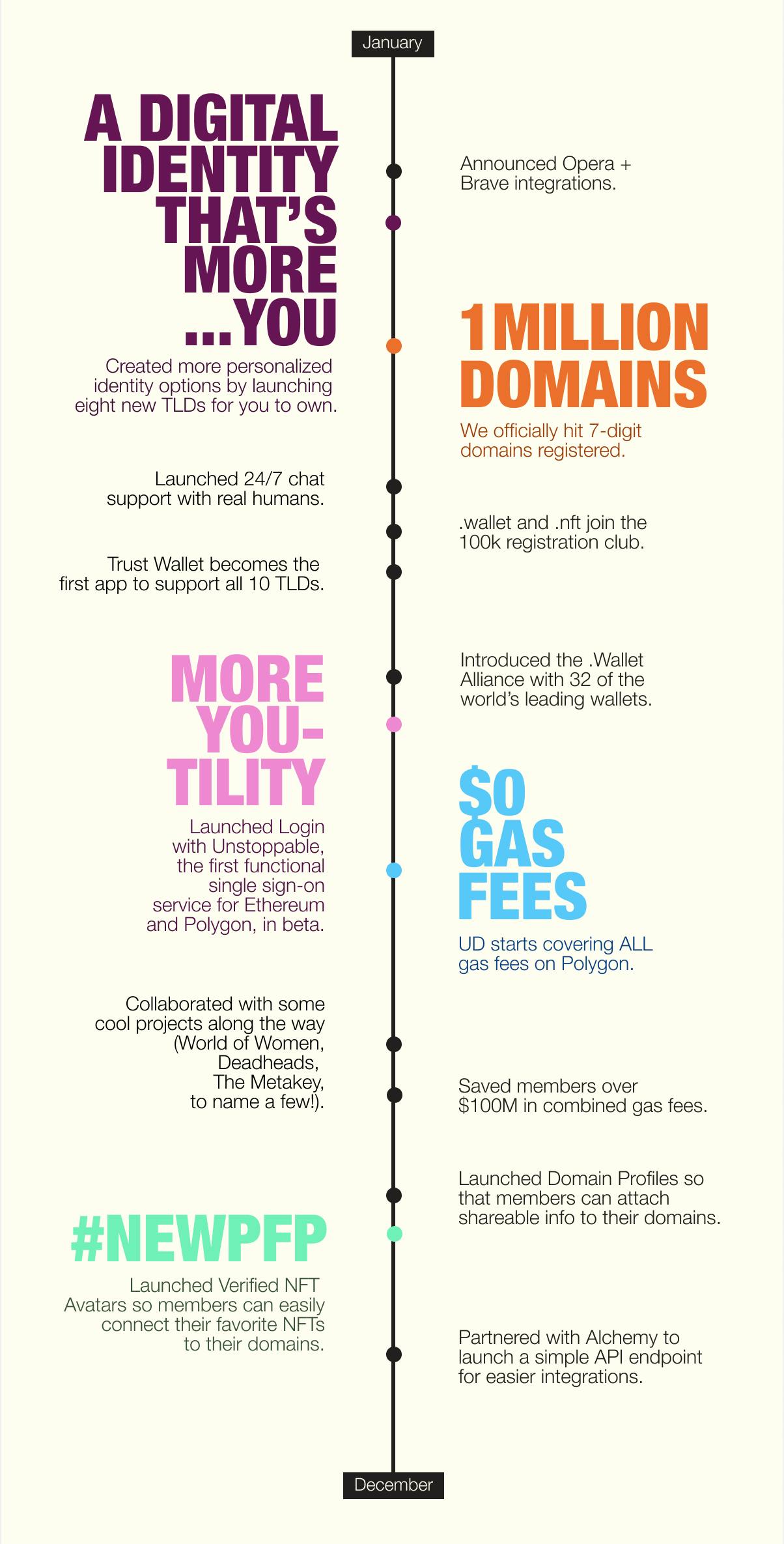 2022 Roadmap
Payments: Send And Spend With Confidence
Simplifying crypto payments for everyone is one of our NFT domain's most fundamental benefits. This year, we plan on making that experience even better by adding support for not only more coins, but also coins that exist across multiple chains (e.g. Tether).
Identity: Be Your Most Authentic Digital Self
One of the things we love most about Web3 is that it provides so many avenues for us to embrace and share our most authentic selves. The latest features we have in the works around Web3 logins, NFT avatars, reverse resolution, and the ability to verify that you're…well, you, add new layers of convenience and peace-of-mind to digital experiences.
Reputation: Well Respected, Well Connected
There are perks to being you. Or, at least there should be. Our upcoming proof of humanity functions paired with new incentives and rewards, like badges to reflect your community-building contributions and achievements, bolster your digital reputation with new layers of depth and transparency.
UD will keep empowering everyone to own what's rightfully theirs and help them discover the very best of Web3.
Credit: https://unstoppabledomains.com/blog/2021-recap